2017 Lunar Schedule
Note: We are open in Milton on Thursday evenings. We are open Mississauga on the 2nd or 3rd weekend of the Gregorian calendar, according to the peak lunar period and Hijri Calendar.
---
* = Mississauga Square One location
January (Rabi Al-Akhar)
Sat Jan 15 = 16th Hijri
Sun Jan 16 = 17th Hijri
Thu Jan 19 = 21st Hijri

February (Jumada Al-Awwal)
Thu Feb 16 = 19th Hijri
Sat Feb 18 = 21st Hijri
Sun Feb 19 = 22nd Hijri
Closed: Mon Feb 20 for Family Day

March (Jamada Al-Aakhir)
​Sat Mar 18 = 19th Hijri
Sun Mar 10 = 20th Hijri
Closed: Mar 13-17 for March Break



April (Rajab)
Thu Apr 13 = 16th Hijri
Sat Apr 15 = 18th Hijri
Sun Apr 16 = 19th Hijri
Thu Apr 20 = 23rd Hijri

May (Shaban)
Thi May 11 = 15th Hijri
Sat May 13 = 17th Hijri
Sun May 14 = 18th Hijri
Thu May 18 = 22nd Hijri
Closed: Mon May 22 for Victoria Day

Ramadan
Closed: for Holidays

July (Shawwaal)
Thu Jul 13 = 19th Hijri
Sat Jul 15 = 21st Hijri
Sun Jul 16 = 22nd Hijri
Closed: Sat Jul 1 for Canada Day

August (Dhul-Qaidah)
Thu Aug 10 = 18th Hijri
Sat Aug 12 = 20th Hijri
Sun Aug 13 = 21st Hijri
Closed: Mon Aug 7 for Civic Holiday

September (Dhul-Hijjah)
Thu Sep 7 = 16th Hijri
Sat Sep 9 = 18th Hijri
Sun Sep 10 = 19th Hijri
​Thu Sep 14 = 23rd Hijri
Closed: Mon Sep 4 for Labor Day

October (Muharram)
Thu Oct 12 = 22nd Hijri
Sat Oct 14 = 24th Hijri
Sun Oct 15 = 25th Hijri
Closed: Mon Oct 9 for Thanksgiving

November (Safar)
Thu Nov 9 = 20 Hijri
Sat Nov 11 = 22 Hijri
Sun Nov 12 = 23 Hijri

December (Rabi Al-Awwal)
Thu Dec 7 = 19 Hijri
Sat Dec 9 = 21 Hijri
Sun Dec 10 = 22 Hijri
Closed: Dec 22-Jan 2
---
Q: Someone told me that hijamah is best done on certain days. What are these days?
A: As a clinic we follow the opinion of Imam Ahmad that hijamah at any time is beneficial. Eventhough Imam Ahmad classifies these narrations as weak, we do acknowledge people desire to do hijamah on and around these dates. For this reason we have created the above schedule around the peak lunar period which we refer to as "the lunar dates". For your reference, we have given the excerpt directly from Ibn Al-Qayyum's book "Tibb An-Nabawi" (Healing with the Medicine of the Prophet-saw), where he provides commentary related to the ahadith pertaining to preferred dates: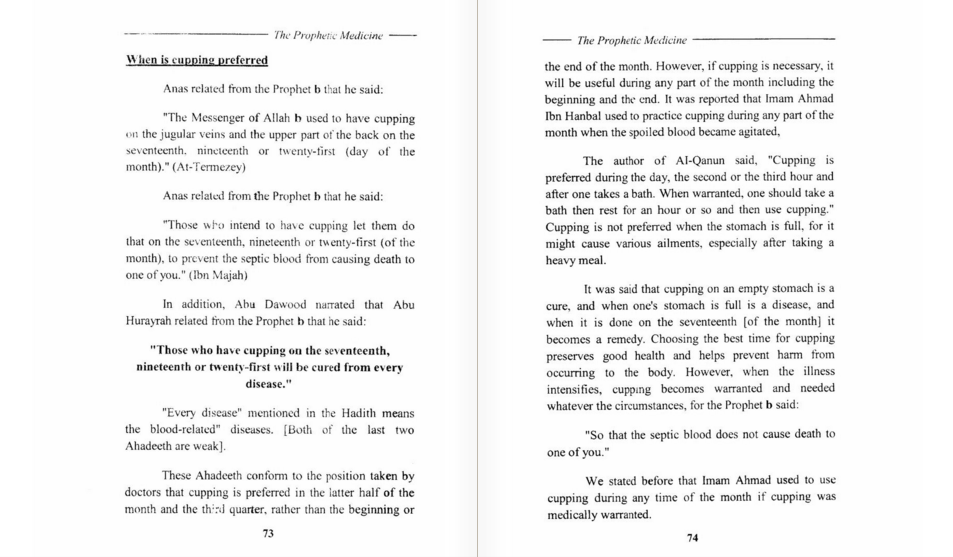 Quoted directly from the text: "These Ahadeeth confirm to the position taken by doctors that cupping is preferred in the latter half of the month and the third quarter, rather than the beginning or end of the month. However if cupping is necessary, it will be useful during any part of the month including the beginning and the end. It was reported that Imam Ahmad Ibn Hanbal used to practice cupping during any part of the month when the spoiled blood became agitated.

However all Ahadeeth that state the time and when the cupping is either preferred or disliked are weak, according to the scholars of Hadith."